Bohemian Fashion Style
---
Originally a French word, "boheme" defines a person with artistic or literary interests, who disregards conventional standards of behaviour, and lives in an informal way that ignores the usually accepted ways of behaving, which may in some cases, also lead to a vagabond life style, a modern nomad so to say, living an unsettled or carefree life.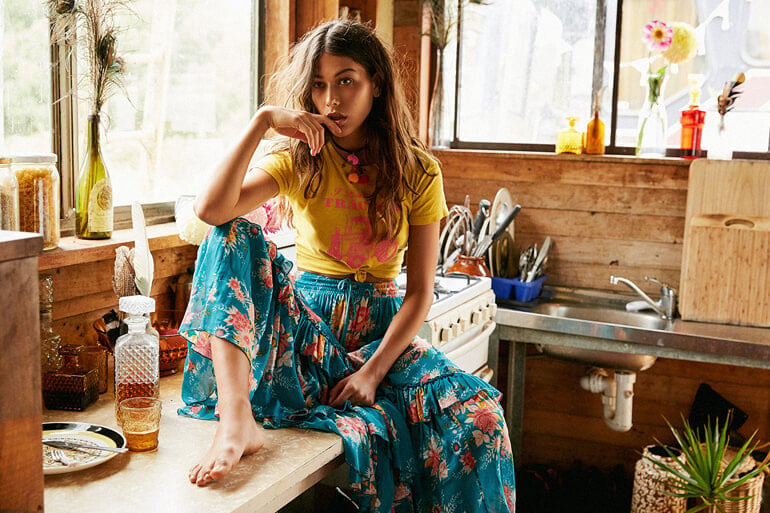 What is the Gypsy Style?
Yet Bohemia is actually a geographical region that exists within the borders of Czech Republic. And the word "Bohemian" was originally used to describe a person from that region or the spoken Czech dialect, which in time was also used interchanceably for the gypsies in various European countries with a vagabond life style at the turn of the century. The word bohem gradually identified the artsy and unconventional people roaming the streets of Paris and London in the 60s and 70s.
Boho Style
As a fashion style though, it entered our lives in around the year 2000, and gradually established itself with its own unique features. The contemporary world views which usually go hand in hand with the boho fashions suggest an informal, artistic way of living and dressing, and resisting the set bourgeois standards that define the society, resulting in a nonconforming and unconventional life style.
How to Dress Bohemian Chic?
The most important feature of bohemian fashion style is that you do not have to follow the yearly chancing fashion trends strictly or at all! Bright colors, ethnic and floral patterns are a must, but how you combine it all is entirely up to you and your unique character. Needless to say, vintage pieces and hippy clothes already existing in the wardrope or that oversized cardigan you inherited from your grandma, a pair of chunky bracelets and that pink crochet top that your mom used to wear in the 70s are priceless pieces that may add value to your boho look. Must haves of a bohemian chic wardrope are; cotton dresses, long skirts, oversized long dresses, oversized shirts, hippy clothes, baggy pants, accessories with lace details and colorful tassels, gypsy dresses and gypsy skirts, high waist pants, patchwork vests, and sexy crochet tops. Velvet and knitwear fabrics are usually preferred and combined with ethnic and authentic designs, fluttering feather-light chiffons and laces are added if you prefer a bit of a romantic touch. Cork wedge heels or ethnic flat sandals, scarfs featuring ethnic or floral patterns, crocheted shawls that get inspiration from the 70s and the gypsy women, chunky wood bracelets in bright or pastel colors usually complement and complete the bohemian outfit.
What is Happening in 2021?
So what is in for the year 2021? We've had a very long winter replete with Covid19, trauma, losses and restrictions. Hopefully having learned our lessons, bandaged the wounds, and reevaluated our priorities, we shall be continuing our lives. Forcing us to redefine solidarity, empathy, and sharing, let us hope that 2020 has etched in our minds and hearts that humanity and mother earth is an enormous living organism and we are all on the same boat, no matter where we live in the world.
High Quality Boutique Wholesale Clothing
Now that the vaccination process is steadily moving forward all over the world, giving us renewed hope for the upcoming spring and summer, maybe it is just the time to shed the heavy winter coats, wool sweathers and chunky boots, and evaluate our wardropes to redefine our boho chic style or incorporate some essential pieces to join the crowds who follow this hot fashion trend!. After all, the invigorating bright colors, floral and ethnic patterns to match the fresh spring hues, an oversized skirt or a shirt, a bell sleeved long dress, a midi boho dress, a light scarf with an elegant floral design, a few clickety clack wooden bracelets that you stack up, and a pair of dangling ethnic earrings to complete this boho look might just be the thing you need to feel healed again, spirited away, and move around carelessly!
Wholesale Sustainable Clothing
Whether you are an individual shopper for bohemian clothing, or looking for alternative apparel wholesale, our eco friendly clothing for women will help you refresh your wardrobe and boutique, and get ready for the spring and summer. You can take advantage of wholesale shopping online with our user-friendly website. As a Turkish wholesale bohemian clothing vendor, we also have a huge variety of mens wholesale clothing, such as harem pants and hippy chic clothing. If you need to buy in bulk online, brousing our extensive collection, you are going to find all the essential pieces you will need, in plus sizes as well, to create the custom tailored boho chic style. So what are you waiting for? Log on to our user-friendly website to start searching!