Don't Worry Be Hippie!
---
Today we want to talk about bohemian hippie fashion. We all know that hippie clothes have never gone out of style, no matter how the fashion trends tended to change. Here, we would like to refer you to our previous post, titled Bohemian Fashion Style, to give you an idea of how bohemian style took off and evolved incorporating the hippie and gypsy styles, especially with certain concepts such as environmental awareness, earth harmony living, zero-waste, recycling, ethical and sustainable sourcing increasingly became a part of our daily lives. Hippie clothing is also fun, versatile, easy to combine, and never boring!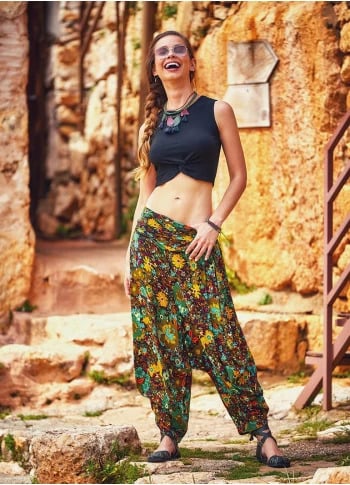 How to Dress Boho Hippie Style?
As we all know, hippie style became prevalent in the mid 60's moving on to the 70's. It wasn't just a fashion trend though; moreover a distinctive lifestyle that the hippies developed against the materialism and repression of the middle-class society. The bohemians and hippies shared many common traits, including a rejection of the comfortable, bourgeois lifestyle, a need to rebel, the lack of purpose in their lives, and expressing themselves through unique way of dressing that mocked the mainstream culture. Bohemians often wore clothes with bright colors in order to stand out and mock the bourgeoisie. Hippies borrowed many of their fashion ideas from the bohemians and vagabond gypsies of Europe: They loved those bright colored maxi dresses and skirts, cheerful tops, harem pants, bell bottoms, ethnic scarves and shawls, tassels, and oversized cardigans. Now, dressing hippie chic can also be quite affordable, as you can always throw in some vintage items and up-cycled pieces: that old crochet sweather you found in your mom's closet combines great with the hippie skirt you just bought, add a pair of dangling ethnic earrings and stack of bracelets, and voila! You created your unique hippie style!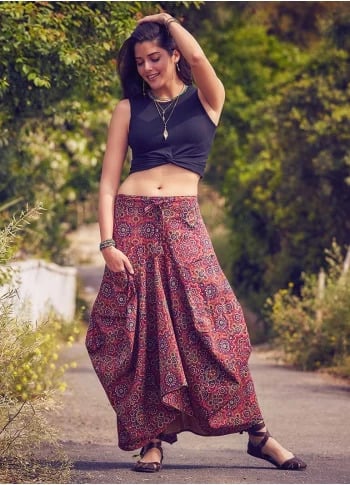 The Hippie is Back!
Oh yes! And it is back with a vengeance: Women in floral maxi dresses with tumbling locks topped with flower crowns, young girls in hippie tops and crochet bikinis, men with beards wearing baggy pants and shirts made with organic cottons.. There is the clean eating phenomenon: Make your own flourless chocolate cake or raw vegan dessert.. And meditation apps are enourmously popular. The neo-hippie tendency manifests itself in many aspects of life, from natural family planning, buying eco-friendly furniture, vigorously re-cycling and up-cycling, eating organic food, preferring green buildings, eco holidays, trekking in nature, all the way to the resurgence of feminism and acting on the climate change. As the wind blows in this direction, hippy chic clothing have become a regular sight in many display windows.
How About Opening Your Own Boho Hippie Shop?
You see, bohemian hippie outfits are never outdated, and it could be the basis for an exceptional business opportunity for earning a decent living. Since eco-friendly, organic, sustainable and ethical clothing is in more than ever nowadays, why not start your own business, opening your "little hippie shop"? The greater bonuses will be: you will have a clean conscience, will have the chance to handle beautifully colored textiles made with all-natural materials and match them with fun accesories, and you could allure your potential buyers with all the Van Morrison and Grateful Dead tunes you used to love.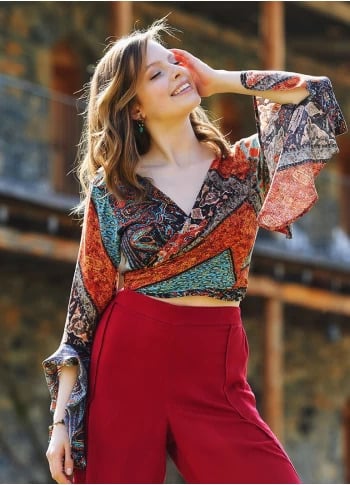 Wholesale Bohemian Clothing
Wholesale online shopping can be tricky, as we mentioned in our previous blog posts. Most wholesale clothing vendors featuring wholesale hippie dresses and wholesale boho clothing are only distributors who make an additional profit. So if you are to turn this into a lucrative business, you definitely need to connect with the right suppliers, in other words, with original manufacturers such as Los Banditos. We have been in this business for quite some time now and we have meticulously maintained our work ethics and our passion for creating unique bohemian, hippie and gypsy style clothing. A leading company for bohemian wholesale, Los Banditos is the right address for you. We have a vast selection of wholesale boho clothing, wholesale hippie clothing, also available in plus sizes. Our user-friendly website will make it fun and easy to create your tailored selection for your existing and/or brand new boutique. Don't wait any longer. Log on to Los Banditos for all your wholesale fashion needs.