How to Dress for a Boho Wedding
---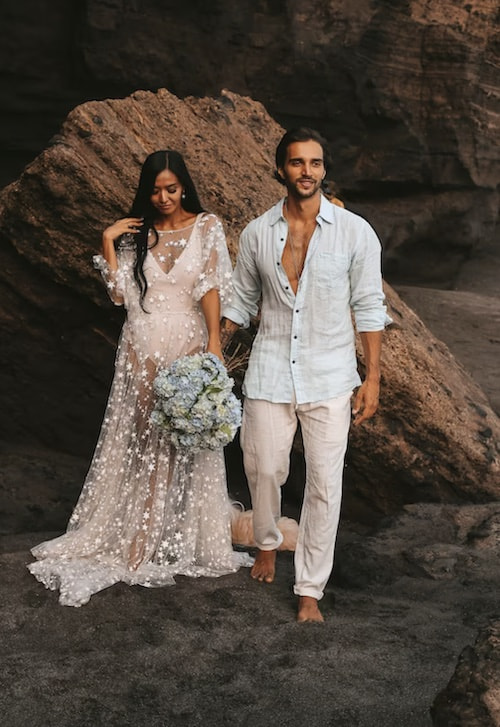 The time has come for that long expected wedding and you definitely need a boho wedding dress to make an impression at your dream event. If you don't know where to look at for that bohemian wedding dress that will fit you and your bohemian theme perfectly, you are at the right address because your wedding should represent who you are from clothing to table linens, to the bouquet and the music.
The rising trend of the last seasons, bohemian is a chic vintage style that combines trends from 1960s to 1970s with a bit of a modern flair. Think earthy elements, lots of wild flowers and ethnic prints, asymmetrical cuts, and lace. The popularity of the bohemian weddings makes sense, as they can be simple, filled with DIY objects that save money, let artistic talent shine, and be super fun at the same time. Anything goes, all you need is a free-spirited approach!
Besides, no other genre really competes with the bohemian when it comes to boho style wedding dresses, as they can be so effortless, let it be a long-sleeve boho wedding dress or a plus size boho wedding dress. Surely you are going to be a show stopper in your white boho wedding dress with that romantic and artful bouquet.
All you need is to decide on the suitable theme. A romantic boho wedding usually uses a lighter color palette, with some wild flowers and grasses, lace and velvet ribbons. With boho wedding guest dresses and bridemaids' dresses in perfect match, you will be able to create that gorgeous romantic feel, which you will be remembering for a life time.
Even when you wish to organize this event right on the beach and go for a hippie wedding dress, you can achieve that boho chic look, creating a laid back vibe with thrifted decorations, simple flower arrangements, maybe some DIY lamps that would match the hippie theme, with the sound of the waves contributing to this magical atmosphere.
For a vintage boho wedding on the other hand, you may want to dig deep in the closet of your grandma to score some vintage lace or a pair of velvety gloves to match perfectly that vintage bohemian wedding dress you decided to wear. The theme should reflect an era gone by with all the romantic details.
If you are a boutique owner featuring boho clothing and looking for wholesale maxi dresses and boho skirts to add to your collection, Los Banditos is the right address for all your wholesale boutique clothing needs. Cost-efficient and artsy bohemian weddings are ever so popular and you certainly want to be in full stock, picking that black bohemian wedding dress, short bohemian wedding dress, or even the bohemian wedding dress with sleeves, complementing them with matching accesories, laces, ribbons, shoes, etc.
There may be many wholesale clothing vendors and wholesale clothing websites to choose from, featuring wholesale boho clothing. Los Banditos on the other hand, comes forward with its carefully selected materials and work ethics within the vast pool of wholesale clothing suppliers. What makes Los Banditos unique is the whole story behind it. The foundations of Los Banditos were laid in the artsy bohemian streets of Kathmandu, a magical capital infused with eastern spirituality, the Mecca of free-thinking world travelers.
The materials for the original line were the Nepalese textiles and were sewn in Kathmandu ateliers. In the following years, partly due to economic pressures and tax related regulations, the production was moved to Turkey. Yet Los Banditos never lost its passion for creating unique boho clothing, never compromising the quality of the fabrics and excellent workmanship. So be an individual shopper for that perfect boho wedding dress or a boutique owner featuring boho chic or romantic wedding dresses in your store, Los Banditos promises to fullfil all your dreams and goals.